Live Video Production

from

Brisbane Live Stream Pros
Live video production is rapidly becoming an essential part of any event in Brisbane. It's no secret that live streaming has become a major source of entertainment and engagement for audiences across the globe. Whether it's broadcasting a corporate event, or showcasing a band to millions, there are endless opportunities when it comes to live video production in Brisbane. But how do you get started?
In this article we'll explore what you need to know about setting up your own live stream from Brisbane. We'll look at the different platforms available for streaming, as well as providing some tips on how best to maximize your audience reach with quality content. Finally, we'll take a look at some of the top companies offering professional services in the field of live video production in Brisbane.
So if you're interested in getting into live streaming from one of Australia's most vibrant cities, read on! With our help, you can be sure that your next broadcast will be engaging and entertaining for everyone who tunes-in.
Corporate Events Streams

Wedding Events Streams

Funeral Events Streams

Sports Events Streams
About Brisbane's Top Live Video Production Service
Live video production in Brisbane is a booming industry, offering high-quality streaming services for corporate events, weddings and funerals. It's become increasingly popular over the last few years due to its cost effectiveness compared to traditional filming methods. By utilizing live streaming technology, businesses can save time and money on their projects while ensuring that every second of footage is captured with crystal clear quality.
At the same time, this method also offers individuals an opportunity to broadcast life's most cherished moments from anywhere in the world. Live streaming corporate events such as product launches or conferences allows attendees who may not be able to physically attend to still take part virtually and share in the experience. Similarly, couples getting married have embraced live streaming weddings so friends and family all around the globe can watch them exchange vows in realtime. Even funeral services are now being filmed with live stream capabilities – allowing those mourning a loved one to pay their respects regardless of distance barriers.
As you can see, there are many different types of applications where live video production in Brisbane serves an invaluable purpose – providing convenience, affordability and peace of mind at some of life's biggest milestones. With these factors in mind, let's explore how exactly this type of service works..
Live Video Production – Why Live Streaming is so important
Live video production is increasingly important in today's digital world. Live streaming can help businesses reach a much wider audience, and allow them to showcase their products or services more effectively than through traditional advertising methods. Moreover, live streaming offers many benefits that other types of media cannot provide – such as the ability to interact with viewers in real-time, which allows for more authentic connections with customers.
Live streaming also provides an effective way to engage potential customers, allowing companies to build trust and loyalty among their audience. It's also cost-effective compared to other marketing campaigns – making it a viable option for even small businesses looking to expand their reach. Additionally, due its immediacy and interactive nature, live streaming can be used strategically by brands to create powerful experiences for viewers.
Live video production has become an essential tool for modern businesses who want to stand out from the competition and make sure they have maximum visibility online. By leveraging the technology available today, organisations are able to get closer to their target market and generate higher levels of engagement with their content. With this increased level of interaction between business owners and consumers comes greater opportunities for growth, connection and success.
Types Of Live Stream Video Production
Live streaming video production is a popular way to capture an event and provide real-time broadcasting in Brisbane. It combines the immediacy of live television with the convenience of digital media, giving you a unique platform on which to reach your audience. Here are three types of live stream video productions that can be used for broadcasting in Brisbane:
Live Video Streams: These streams are broadcast over the internet or other digital networks, allowing people to watch events from anywhere around the world. This type of stream requires high quality equipment and bandwidth for smooth playback.
Event Broadcasts: Events such as conferences and concerts can be captured through this method. The content will then be made available online so viewers from all over the globe can enjoy it.
Social Media Livestreaming: This type of livestreaming allows users to share their experiences online while they're happening in real time. Popular social media platforms like Facebook, YouTube, Instagram, Twitter, and Snapchat offer different ways to connect with audiences in an engaging manner.
These three methods of live streaming in Brisbane allow individuals and businesses alike to produce content without having to invest heavily in traditional broadcast equipment. From capturing professional sports action to engaging with customers directly via social media, live streaming offers many benefits that make it worth exploring further. With that said, let's take a look at why live video production is so important today.

Corporate Events
Corporate Event Livestreaming in Brisbane Queensland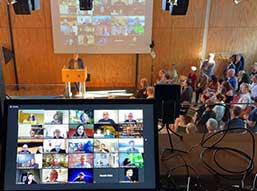 Funerals Brisbane
Funeral Events Live streaming in Brisbane Queensland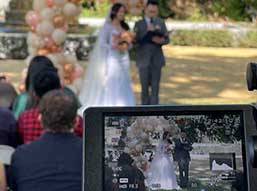 Weddings
Wedding Events Live streaming in Brisbane Queensland

Brisbane Livestream – Let's Talk
Hit the button below to give us a quick call. Or, if it's 2am and you are googling 'Brisbane Live Stream' feel free to fill out the form and we will be back to you ASAP with your quote.